Rambling Rose: Travel Blog 
Katie's Fantastic Jurassic Dorset Adventure III:  Following in the Footsteps of Giants.  Part 1 - Thomas Hardy (1840-1928)
On a wild, wet Dorset We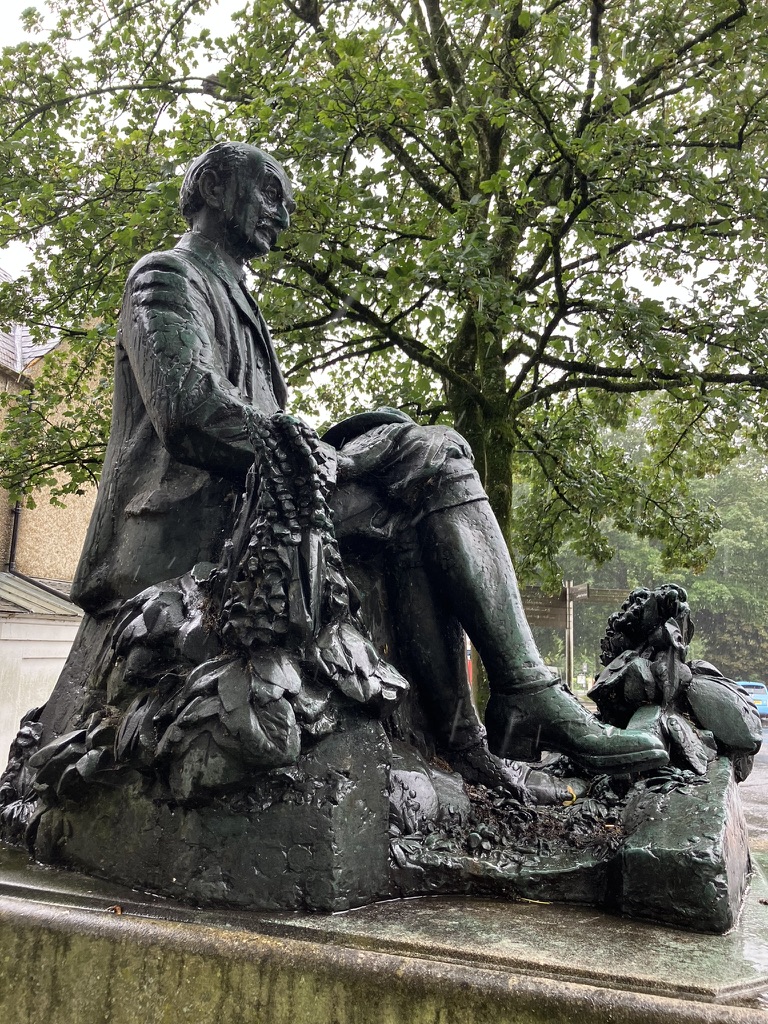 dnesday I jump aboard a Jurassic Coaster to pick up the trail of my literary ancestor Thomas Hardy.  It feels only right to pick up a copy of Tess of the d'Urbevilles (published 1890) to accompany my rides around Hardy country.  

My tenacious Dad, formerly Herts County Advisor for Geography, spent many summer holidays patiently reading us the earth's story from lines etched in cliffs and many years tenaciously excavating our family history.  Before I head off, he untangles the Dorset branches of our family tree over an OS Map. It turns out that Thomas Hardy (1849-1928), famed author of 14 novels and prolific poet, is my first cousin five times removed/ five generations ago - in 1883 his aunt Jane Hardy married Edmund Groves my five times great paternal grandfather.
Hardy's Statue, Dorchester
So here I am battling rain to find Hardy's statue and Max Gate, the beautiful home he built on the edge of Dorchester a few miles from the cottage built by his great-grandfather in Higher Bockhamptom where he grew up with his grandparents, parents, two sisters and brother.   The remote position of the ancestral home enabled Grandad Thomas 1 to do a bit of smuggling and inspired his grandson to immortalise it in his poem Domicilium, written aged 16.
'Behind, the scene is wilder. Heath and furze
Are everything that seems to grow and thrive
Upon the uneven ground.'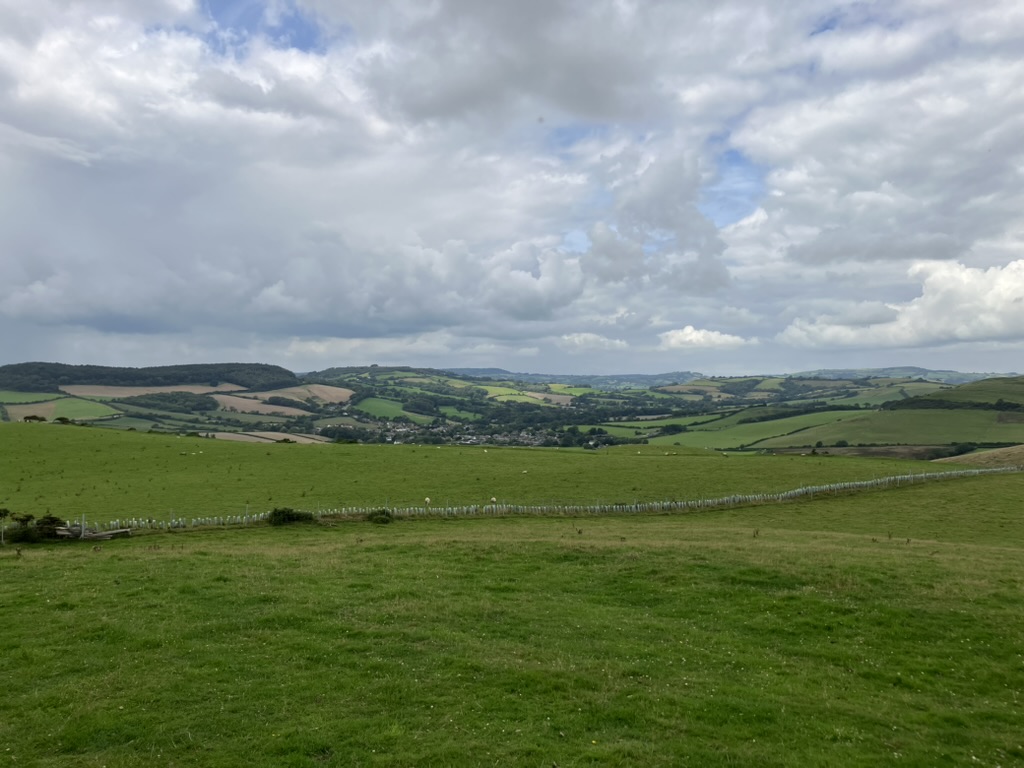 Views of Hardy Land from the South West Coastal Path
Hardy's words roved and wove themselves into the landscape of Dorset, which he reimagined as Wessex.  In Tess he describes the valley of Blackmoor as a place where 'the world seems to be constructed upon a smaller and more delicate scale,' and the atmosphere is 'languorous and is so tinged with azure that what artists call the middle distance partakes also of that hue, while the horizon beyond is of the deepest ultramarine.' Noting that 'the forests have departed, but some old customs of their shade continue,' he mourns the changes that agriculture and human intervention inflicted on the landscape. I can only imagine the grief he would feel today.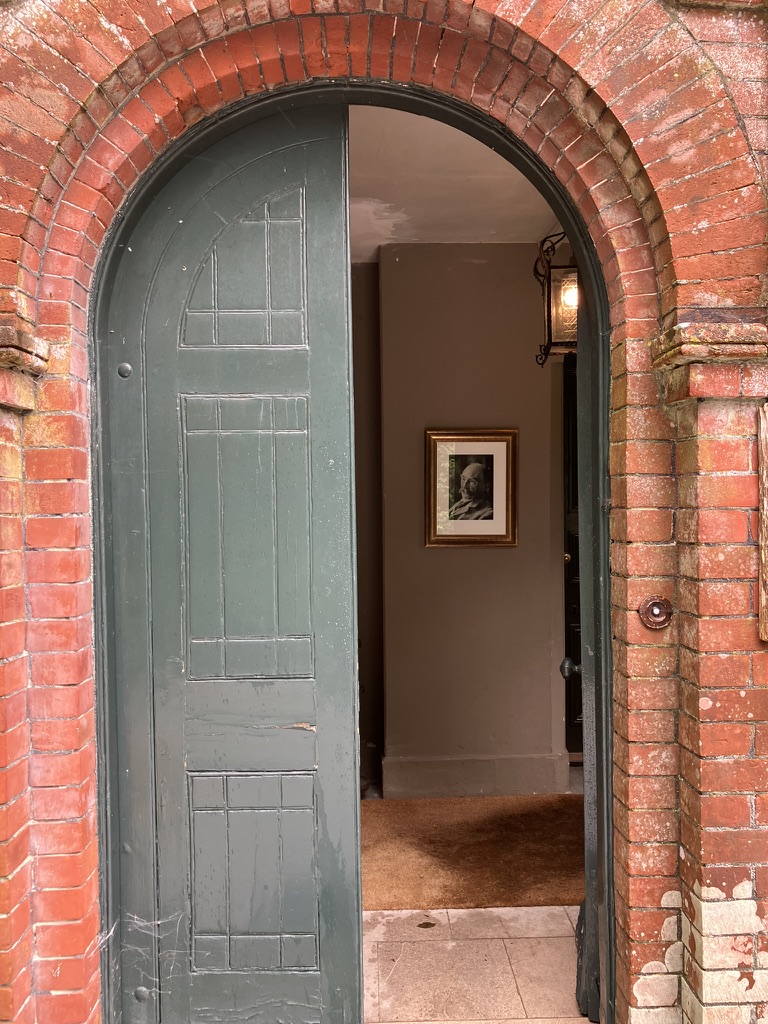 Presumed dead at birth, delicate health set Hardy on a different path from his stonemason forefathers.  With a gift for drawing, he trained and worked as an architect from 1856-72, working in London from 1862 and returning to Dorset in 1867 to pursue his first love of writing.  His first novel The Poor Man and the Lady was considered inappropriate for hierarchal Victorian society but his publisher encouraged him to continue writing and Desperate Remedies was published in 1871. He went on to write fourteen novels, dedicating himself to his first love of poetry after the scandal caused by Jude the Obscure in 1895.  His challenge to Victorian society and his sympathy for his female characters such as Tess marked him as a man out of step with his times.
Doorway to Max Gate
Hardy's world hummed with music, song and story. His grandmother, Mary, who outlived her husband, was a great storyteller and collector of folklore, enchanting young Thomas with tales of the Napoleonic War which inspired his epic poem The Dynasts. His grandfather, Thomas 1, was a keen musician, playing bass viol/ cello with his son, Thomas 2, on violin in a West Gallery Quire in Stinsford Church.   Hardy/ Thomas 3 also learned violin and treasured both the written songbooks used by his father and grandfather and the rich oral tradition of folk music he inherited.  His writing marks and mourns the replacement of the West Gallery Players by organ and surpliced choir.
Thomas Webster (1800-1886) - The Village Choir, 1847 - inspired by "Christmas Day," a vignette from The Sketch Book of Geoffrey Crayon, Gent. (1820) by American author Washington Irving (1783-1859).
Tess and her family, like Hardy's, inhabit a world where music is intimately woven into all aspects of life - accompanying religious ritual, powering agricultural labour and soothing grief -  'that innate love of melody, which she had inherited from her ballad-singing mother, gave the simplest music a power over her which could welling drag her heart out of her bosom at times.' Music plays an almost supernatural role in enchanted matchmaking - Tess's 'fluty voice' catches her lover's ear as he contemplates the world as a 'phantasmal orchestra' where all the objects in the room seem to be 'quivering with the same melody.'  Clare's harp playing likewise magnetises her, becoming one with the midsummer garden, 'the floating pollen seemed to be his notes made visible.'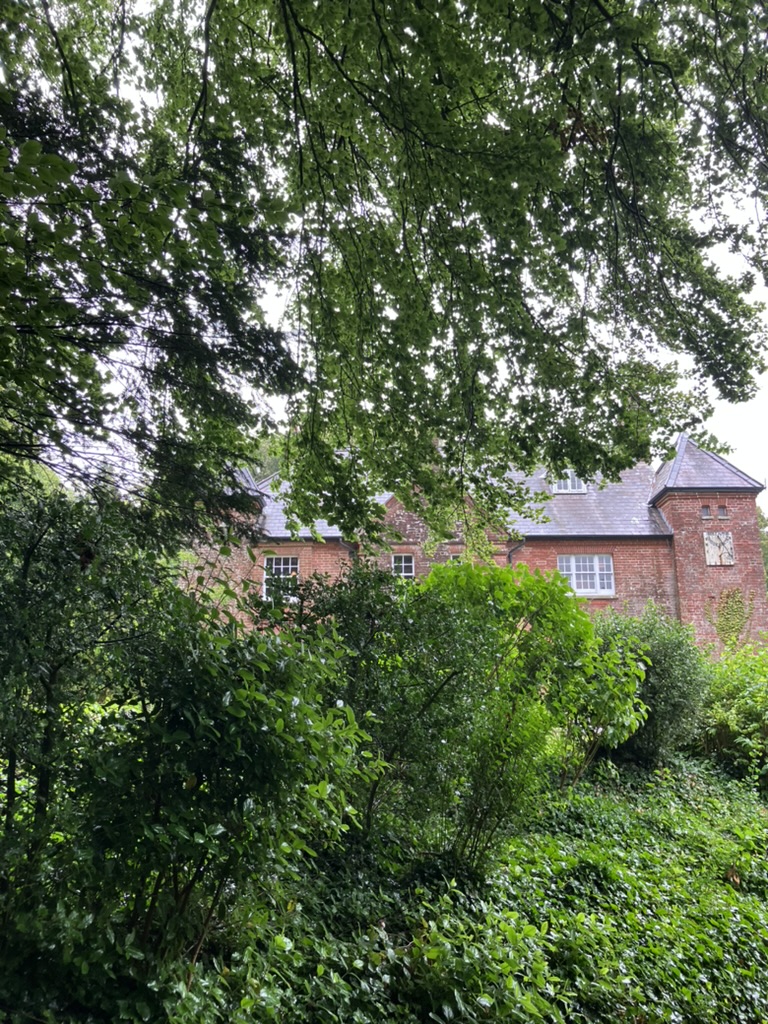 The music of love captivated Hardy when he met Emma Gifford in 1870 after being sent to help restore her brother's church.  He described himself returning from Cornwall 'with magic in my eye' and she was the muse for his third novel A Pair of Blue Eyes (1873) Their families disapproved but after four years of courtship and the success of his fourth novel, Far from the Madding Crowd, ensured his financial security, the couple married, living in various places, including a time just up the road in Tooting (1878-1881).  But the landscape of Dorset was Hardy's first and enduring love and he built his home on land bought from the Duchy of Cornwall, the site of a  Roman-British cemetery and a Celtic stone circle, whose stones are still in the garden.  Set back from the hum of the main road, to catch sight of it through green branches, is to find it as Hardy intended, nestled in a tree-clad world of its own.
Hardy and Emma lived at Max Gate from 1885, remaining there until their deaths.  Whilst being an incredibly private man and confessing to Virginia Woolf that he found visits difficult, he entertained and influenced many illustrious guests including WBYeats, Rudyard Kipling, James Barrie. Poet Siegfried Sassoon carried a copy of Hardy's poems in the trenches and they formed an enduring friendship after meeting shortly before Armistice in 1918. Hardy marked the declaration of peace in the poem 'And There Was a Great Calm:'
Calm fell. From Heaven distilled a clemency;
There was peace on earth, and silence in the sky;
Some could, some could not, shake off misery:
The Sinister Spirit sneered: 'It had to be!'
And again the Spirit of Pity whispered, 'Why?'
In his poem, At Max Gate, published in Common Chords (1950,) Sassoon describes 'the seer whose words the world had known.'
'Old Mr Hardy, upright in his chair,
Courteous to visiting acquaintance chatted
With unaloof alertness while he patted
The sheep dog whose society he preferred.'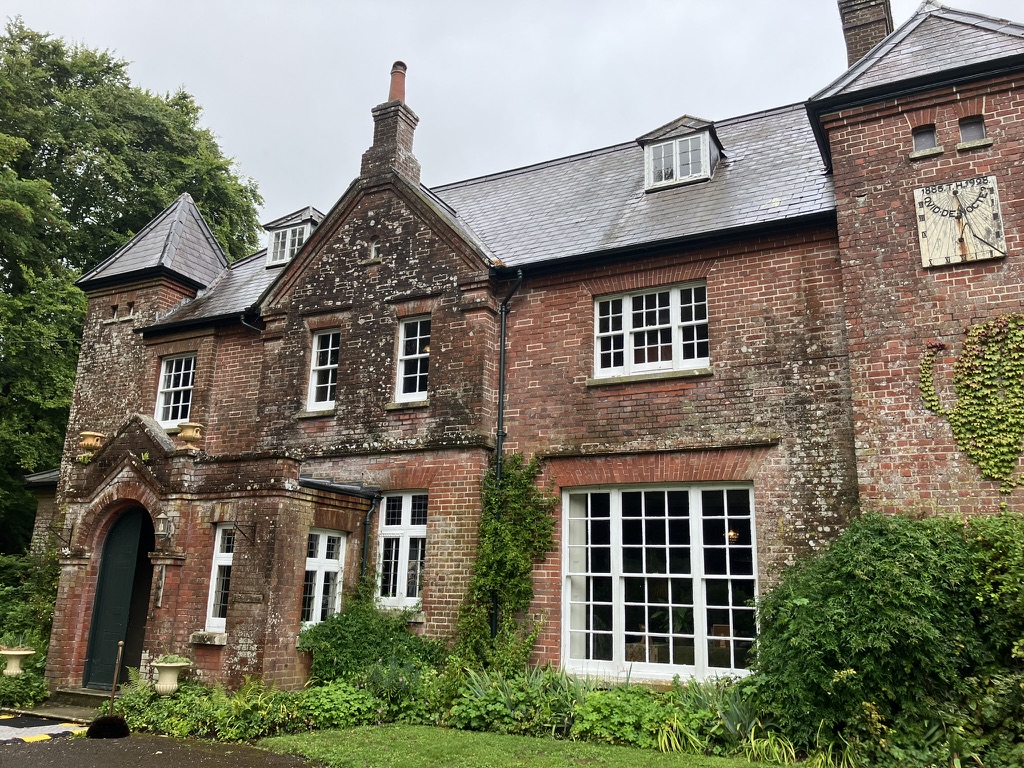 Hardy's House at Max Gate
Whilst Emma was initially highly involved in Hardy's life and writing, particularly influencing Tess, the two grew increasingly estranged and she retreated to attic rooms.  The couple were childless and after her death in 1912, apparently a day after a huge argument, Hardy discovered and burned her diaries detailing her true feelings about their marriage.  He was filled with remorse and wrote some of his most powerful poems in the wake of her death in 1912.  Hardy was known for his infatuations with younger women - in 1904 he met Florence Dugdale, 39 years his junior,  who was then invited by Emma to help with his literary work in 1905. They began an affair and married after Emma's death in 1914.  Poignantly both Emma and Thomas died of heart failure.  As the authorities insisted he be honoured at Poets Corner, his second wife Florence decided that Hardy's heart would be buried next to Emma at Stinsford Church, and his ashes were taken to Westminster Abbey.
It's a strange twist of fate that religious authorities should dictate his final resting place, given that Hardy inhabited a restless, often melancholic state of questioning and challenging Victorian beliefs.  Both Clare and Tess likewise find themselves alienated and rejected by dogma, searching for transcendent music and spending their final night together at Stonehenge.  Hardy's ambivalence towards religion is found in the portrayal of Clare's Father, who 'despite his narrowness, was far less starched and ironed than they (his sons) and had to the full the gift of charity.'  His cynicism is more pointedly expressed in Tess's predator Alec d'Urbeville, whose passionate philandering makes an easy transition to passionate preaching- 'animalism had become fanaticism.'  No wonder Hardy caused outrage in Victorian society which both rejected and acclaimed him.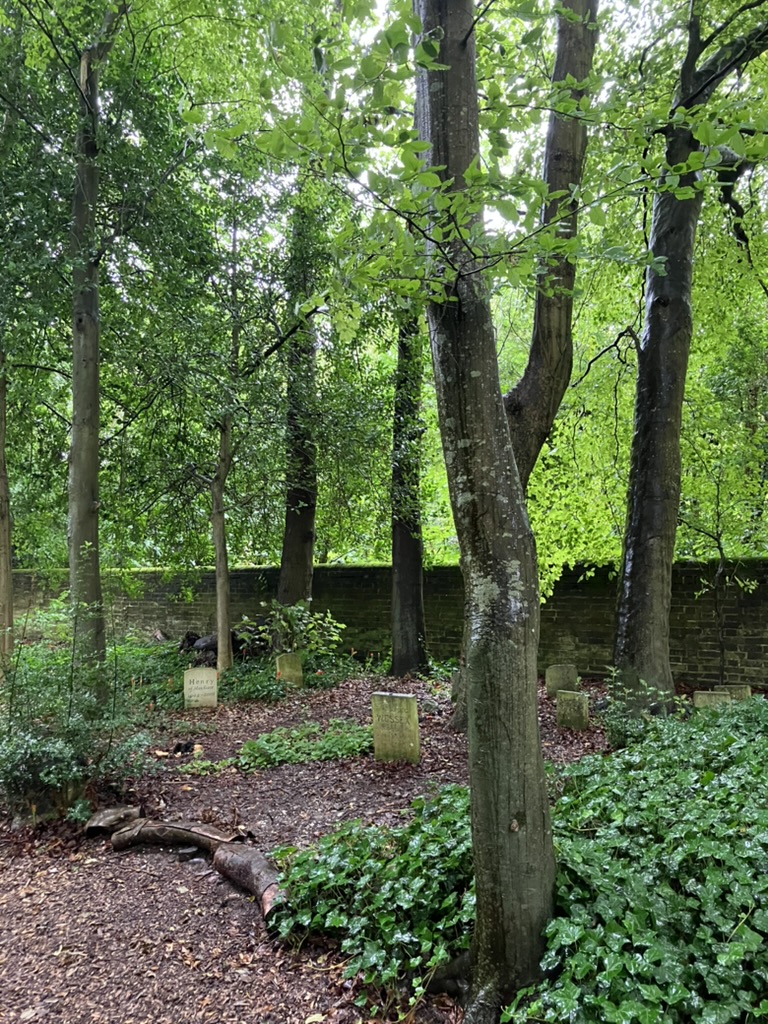 Hardy had an attuned empathy and often a preference for the company of animals - his Pet Cemetery sits amidst a crop of beautiful trees to the side of Max Gate. In Tess, he condemns the human destruction of nature and seeks to restore it by placing his characters within a sentient singing, sounding, natural world.  On one of her long walks in search of work, Tess finds a group of wounded pheasants left to die by a shooting party of men who are 'quite civil persons save during certain weeks of autumn and winter, when..they ran amuck and made it their purpose to destroy life - in this case harmless feathered creatures, brought into being by artificial means solely to gratify these propensities - at once so unmannerly and so unchivalrous towards their weaker fellows in Nature's teeming family.'  
Pet Cemetery at Max Gate
Breaking the necks of the pheasants to end their agony, Tess takes their pain as a spur to overcome her own, chiding herself 'to suppose myself the most miserable being on earth in the presence of such misery as this.'   The stark image of broken birds mirrors the continued assault on her freedom of flight, hunted, constrained, broken-hearted and finally hung by a rigidly patriarchal society.  Hardy's works display an unusually finely tuned sympathy and respect for women - 'let the truth be told - women do as a rule live through such humiliations, and regain their spirits, and again look about them with an interested eye.'
My next adventure is to follow the trail of a pioneering woman, who died seven years after Hardy was born, palaeontologist Mary Anning.
Next Up: Following in the Footsteps of Giants Part 2 - Mary Anning