Rambling Rose: Travel Blog
 Katie's Fantastic Jurassic Dorset Adventure III:  
Following in the Footsteps of Giants -  Part 2 Mary Anning (1799-1847)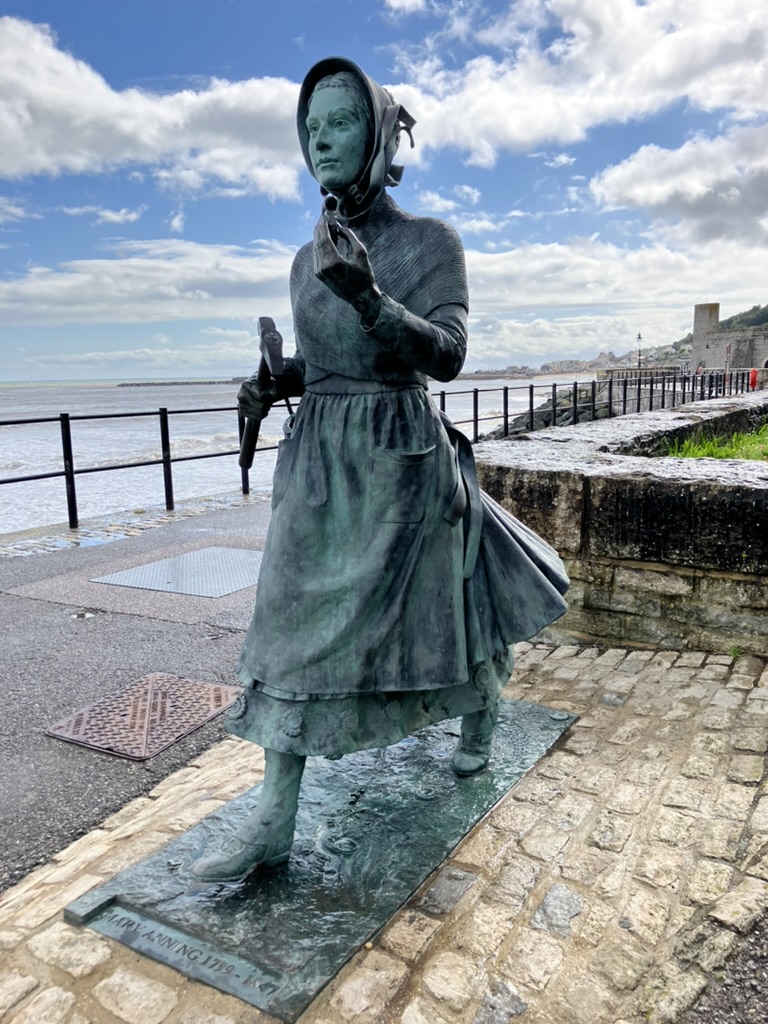 Looking out across the cliffs she mined for fossil treasures, Mary Anning's statue marks the summit of a 222-year quest for recognition.  Having read Tracey Chevalier's novel Extraordinary Creatures earlier this year, my understanding of her story is now far deeper than the sketch I understood as a child.
Struck by lightning as a baby in 1800, Mary was the first to identify an ichthyosaur in 1811 after finding the skull with her brother Joseph and then excavating the full skeleton. Daughter of a cabinet maker, Richard Anning, whose wife Molly ran his fossil shop after he died in 1810, Mary learned to read and write at Dissenter Chapel and took an early interest in scientific articles, making many sketches.  She scoured the cliffs and beaches around Lyme Regis, narrowly escaping a landslide which killed her dog Tray.  Her groundbreaking discoveries include finding the first ichthyosaur (1811), Plesiosaur, (1823) Pterosaur (1828), Squaloraja (1829) recognising coprolites/ bezoar stones as fossilised faeces and describing the ink sacs of belemnites (ancient squid) to her fossil hunting companion Elizabeth Philpot in 1826.

To keep her family out of poverty, Mary sold her finds to wealthy Victorian scientists, who then received academic accolades and profits by exhibiting, selling and writing about them.  As a working-class woman, she was forbidden entry to the Geological Society of London and rarely credited for her early discoveries and drawings.  In a letter to a friend she wrote "the world has used me so unkindly, I fear it has made me suspicious of everyone."
Fossil display at Lyme Regis Fossil Shop
Nonetheless, Mary's fame grew and she was sought out at her fossil shop by leading geologists, scientists and visitors such as King Frederick Augustus II of Saxony who purchased an ichthyosaur in 1844.  She was finally credited in books and papers by William Buckland in 1829 and Louis Agassiz in 1834 and Henry de la Beche and Colonel Birch ran fundraisers to help support her work.  After Mary's tragically early death aged 48 from breast cancer, the Geological Society, who'd helped secure her pension, donated a stained glass window of her to St Michael's Church. The Society published their first ever eulogy for a woman, written by Henry de la Beche in 1850 and finally admitted women in 1904.  Mary was named as one of the top ten women in British History to have most influenced science by the Royal Society in 2005 and is now acknowledged as a pioneering Palaeontologist.
The Lyme Regis Museum, commissioned in 1902 by Thomas Philpot, a relative of Mary's friend and fossil hunter Elizabeth Philpot now stands on the site of her former home and fossil shop.   The Lyme Fossil Shop stands just opposite, with a literally jaw-dropping array of international and local treasures - this model 45ft Carcharodon Megalodon shark's jaw is full of real teeth that gnashed 25 million years ago.
Charles Dickens, telling Mary's story in his literary magazine All the Year Round (1865) wrote: "Her history shows what humble people may do, if they have just purpose and courage enough, towards promoting the cause of science. The inscription under her memorial window commemorates "her usefulness in furthering the science of geology" (it was not a science when she began to discover, and so helped to make it one), "and also her benevolence of heart and integrity of life." The carpenter's daughter has won a name for herself, and has deserved to win it."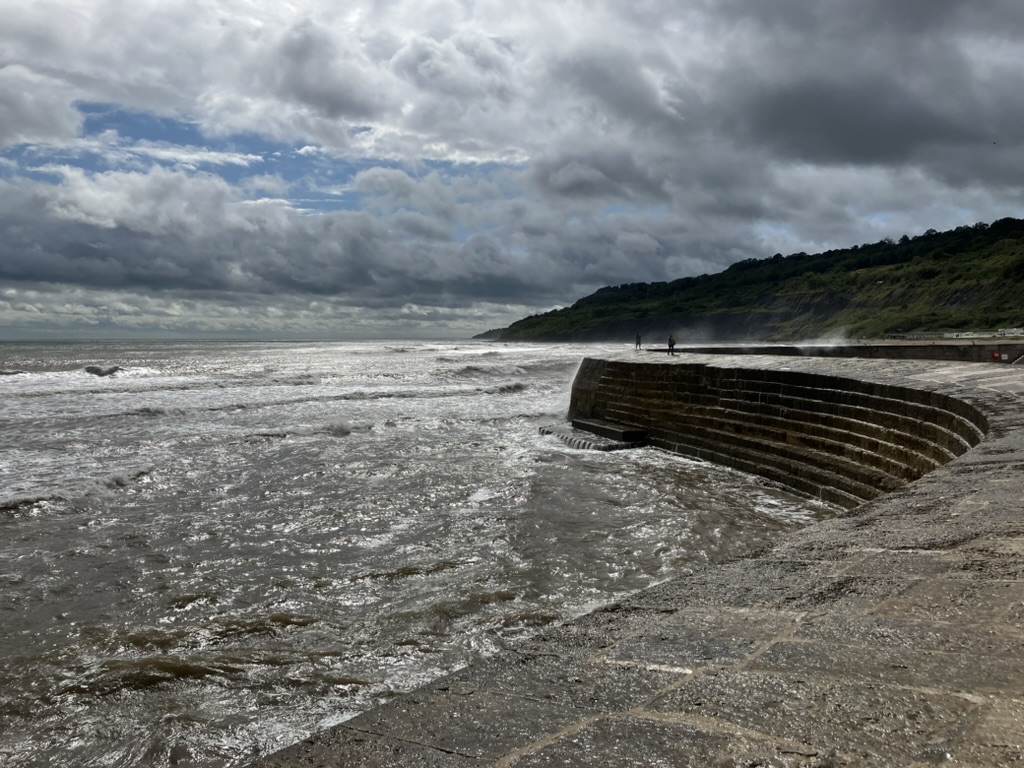 Above - The Cobb, Lyme Regis - Below - views over the harbour, Lyme Regis
Here at Lyme amidst the sea spray and roaring waves on this wild rainy day, walks another wronged woman - Sarah, deserted by a French naval officer, famously portrayed walking the Cobb by Meryl Streep in the film of John Fowles' novel The French Lieutenant's Woman. There are plenty of cheeky seagulls and a handful of visitors carefully edging their way along the protective Portland Stone arm shielding Lyme's harbour.  Some feat of gravity prevents us from being swept off the sea-smoothed wall into a grey, whirling watery grave - or falling down the rocky Granny's Teeth' steps as Louise Musgrove did in Jane Austen's novel Persuasion.  The dramatic view over the boats to the town of Lyme, nestled amongst the cliffs, with its cluster of cute cafes and quirky gift shops is more than worth a few knee wobbles!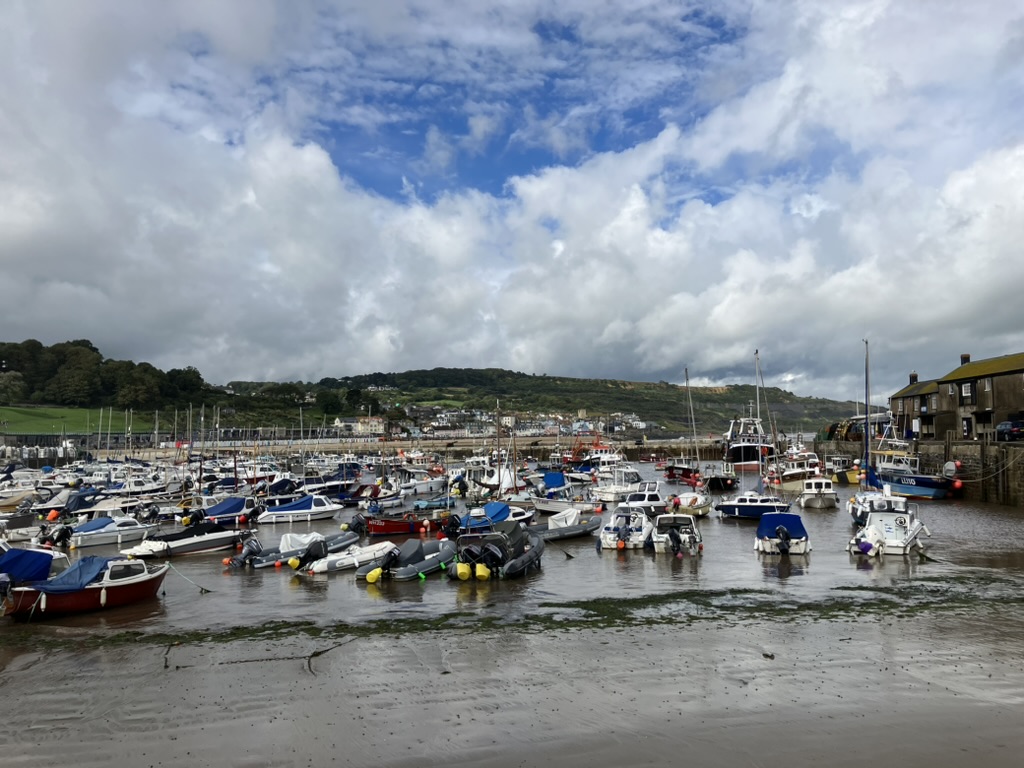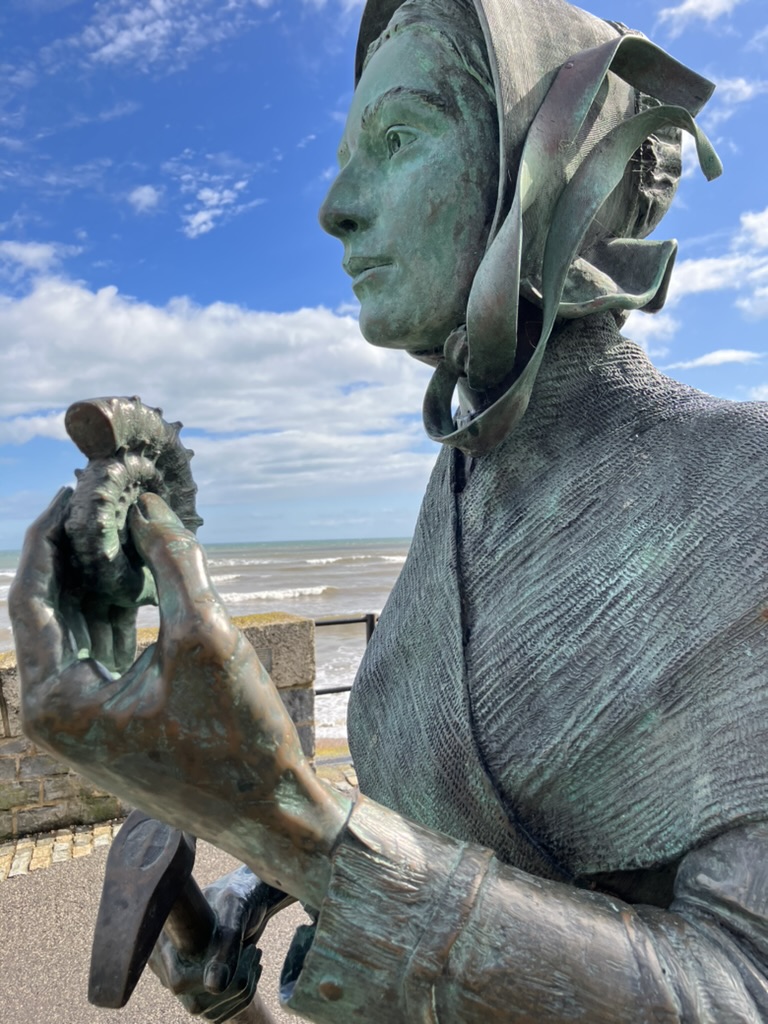 So it's a wonderful vindication to find Mary standing there, clasping her ammonite - she literally brings out the sunshine.   Her beautiful statue, unveiled on the date of her 222nd birthday on 21st May 2022, is the result of a campaign by the Mary Anning Rocks Group launched in 2018 by Anya Pearson and her daughter fossil hunter Evie Swire, who then aged 11 could not understand why there was not a statue to her heroine.  Down on the beach, amidst relics of ancient history on the mud flats, I find a toy crocodile which I donate to a nearby little girl and her mother - the new generation of women digging for treasure as Mary did, to carry forth into the future.
Next Up: Fossil Hunting & Cliff Climbing - Seatown, West Bay & Burton Bradstock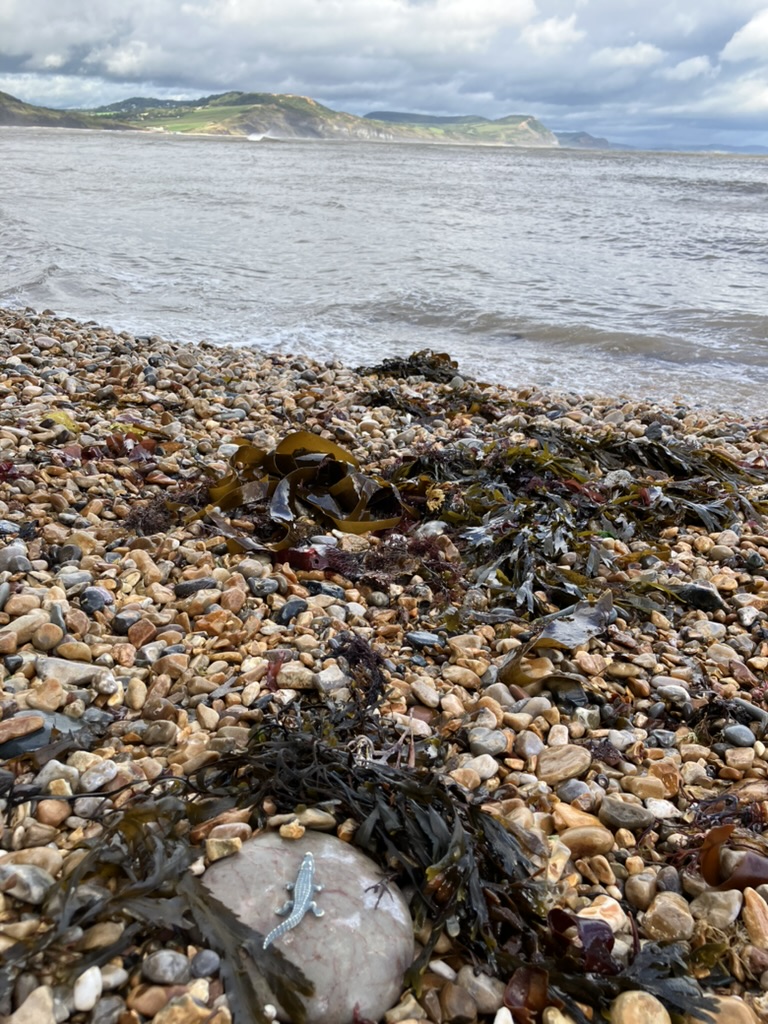 Spot the Crocodile!