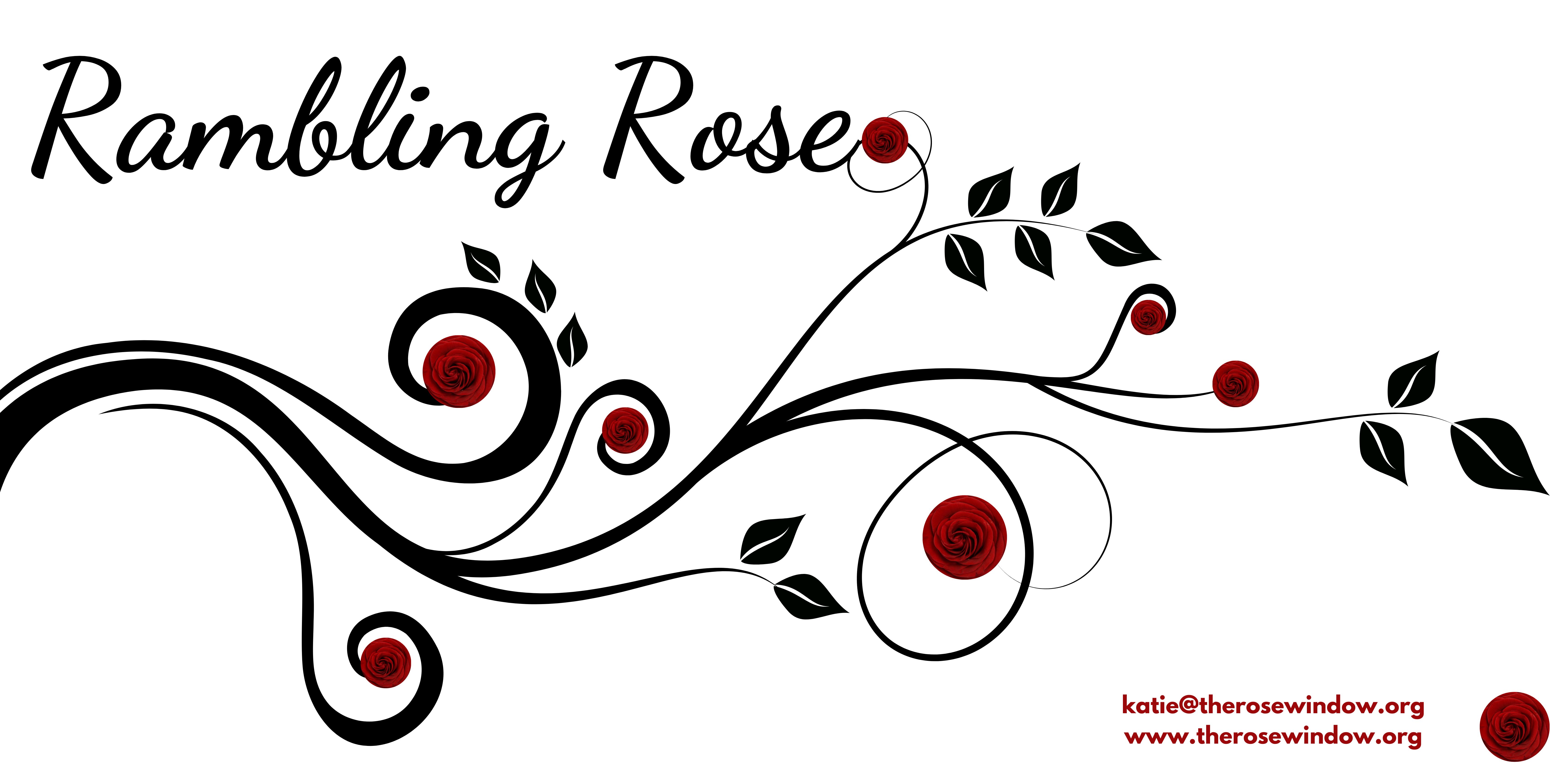 Rambling Rose: Travel Blog
 Katie's Fantastic Jurassic Dorset Adventure
 II : Weymouth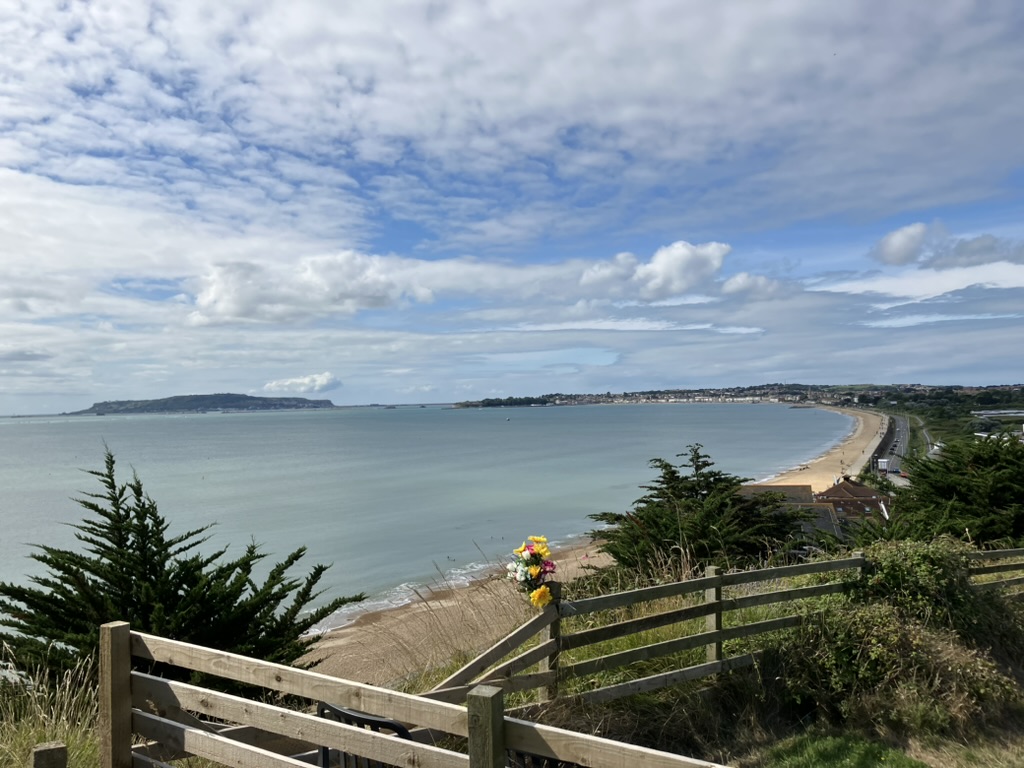 Looking over Weymouth Bay from Bowleaze Cove
Many things, like me, have washed in and out of Weymouth. Dinosaurs, rats carrying the Black Death, the Spanish Armada and American troops during WWII. It's been the site of some immense spats… it took a parliamentary act by Elizabeth I (1571) and a bridge (1590) to unify two squabbling settlements on either side of the river Wey, Melcombe Regis and Weymouth, into one borough.  Cannonballs lodged in the side of houses testify that the town was once again torn in two during the English Civil War.  Military choppers circling the bay are a reminder of the military training bases here - 1:7 of Dorset residents are involved in the armed forces and Nothe Fort, used for coastal defence since 1869 and now a museum, still looms over the bay.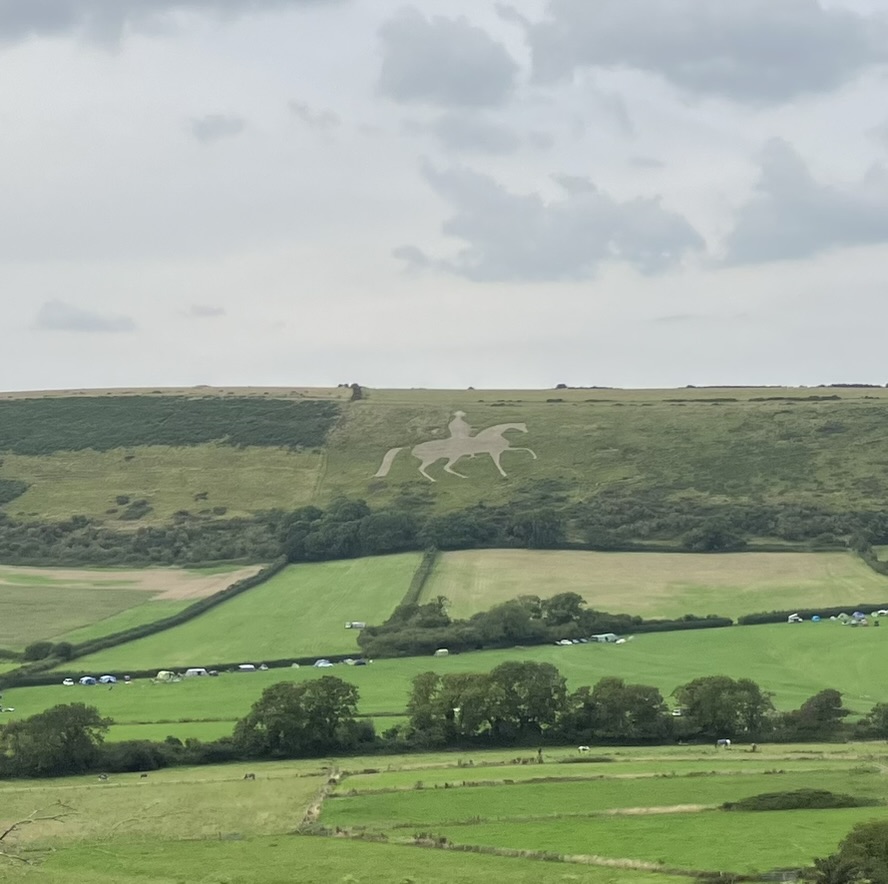 In 1789 Weymouth snagged a big celebrity catch - when King George III (1738-1820) chose the town as his seaside spa to recuperate, the whole town turned out and his fiddlers accompanied him into the sea to play God Save the King. Overnight, Weymouth became the go-to seaside resort.  Georgians and Victorians adorned the beautiful circle of the bay with a jewelled necklace of seaside residences.  George III's love of Weymouth was chalked into Osmington Hill in 1808 - he rides his White Horse there forevermore and his Royal Hotel and Gloucester Lodge (built for his brother the Duke of Gloucester) still preside over the Esplanade.
White Horse, Osmington Hill viewed from an open-topped  Jurassic Coaster Bus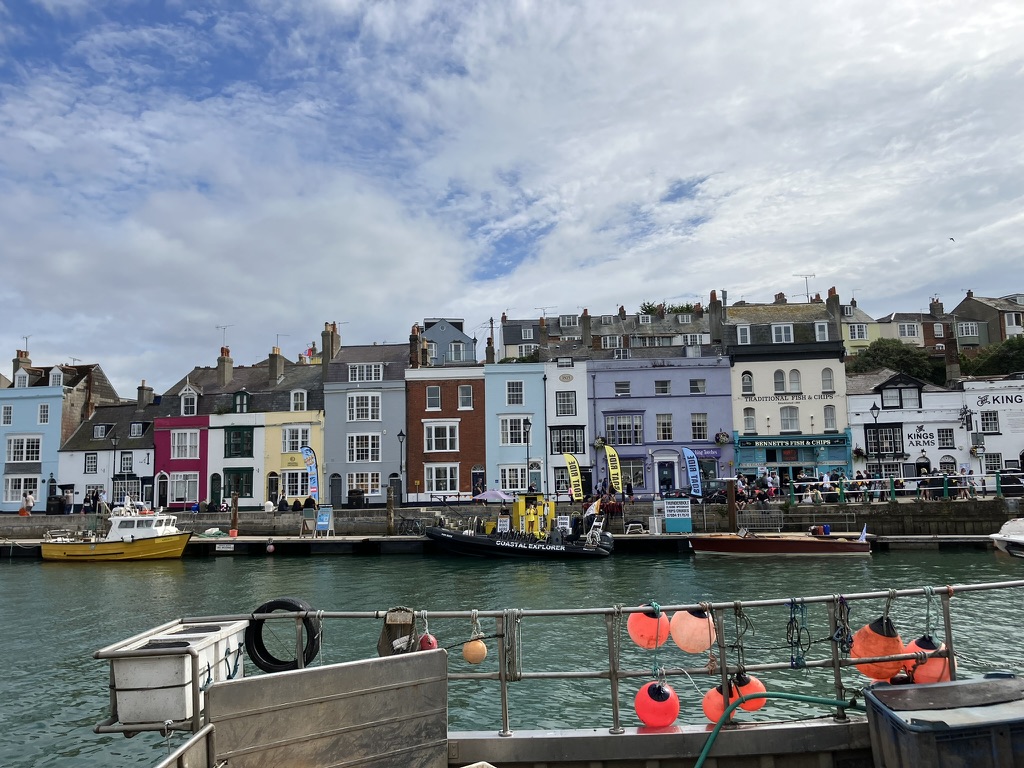 Weymouth Harbour
Having served through two World Wars as both military and tourist destinations, the growth of holidaying abroad, the closure of channel routes and major military/naval bases has left Weymouth suspended in time. Like sediments of rock formation, 1950s, 60s and 70s seaside tropes have been concreted onto the fading facades of its Georgian-Victorian Golden Era.  Colourful chocolate box period houses peek over the edge of the harbour, whilst neon fairground screams ride the breeze with the seagulls.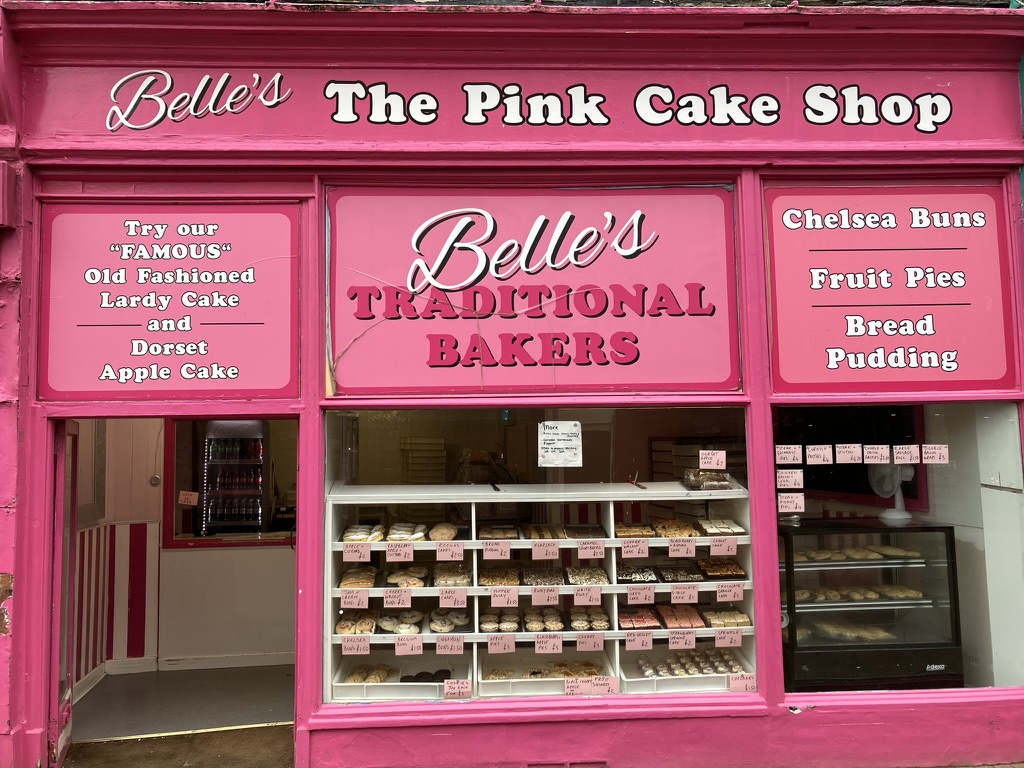 Weymouth is still serving up a traditional English seaside menu of pubs, arcades, plastic seaside kitsch and carbs - sandwiches with crisps, sticky buns, cream teas, pasties, fish n chips - but at the higher prices demanded by the cost of living crisis.  This could make for an expensive coronary.  Whilst diversity of people and cuisine is limited, rainbow signs state that everyone is welcome and, I come across a little veggie/vegan gem, The Secret Garden tucked in a nook of the narrow, quaint streets.  I feel like a fish out of cosmopolitan water, whilst strangely connected by a shared history of family holidays decades ago.
Even though it's high holiday season, Weymouth's halo of soft golden sand is spaciously populated.  The Jurassic cliffs shimmer in the distance and white sails bob like rabbit tails on the big blue sea.  Folks are friendly and open to chatting in shops and cafes.  A super friendly fella at the Kings Statue central bus stop and all the bus drivers seem genuinely delighted to help everyone find their way, like the bus conductors of yesteryear.  I'm in awe of their ability to navigate the peaks and troughs of the coastal roads.  The Jurassic Coaster buses will take you in all directions for only £2 single - appreciative passengers say a warm 'thank you driver' at the end of each journey.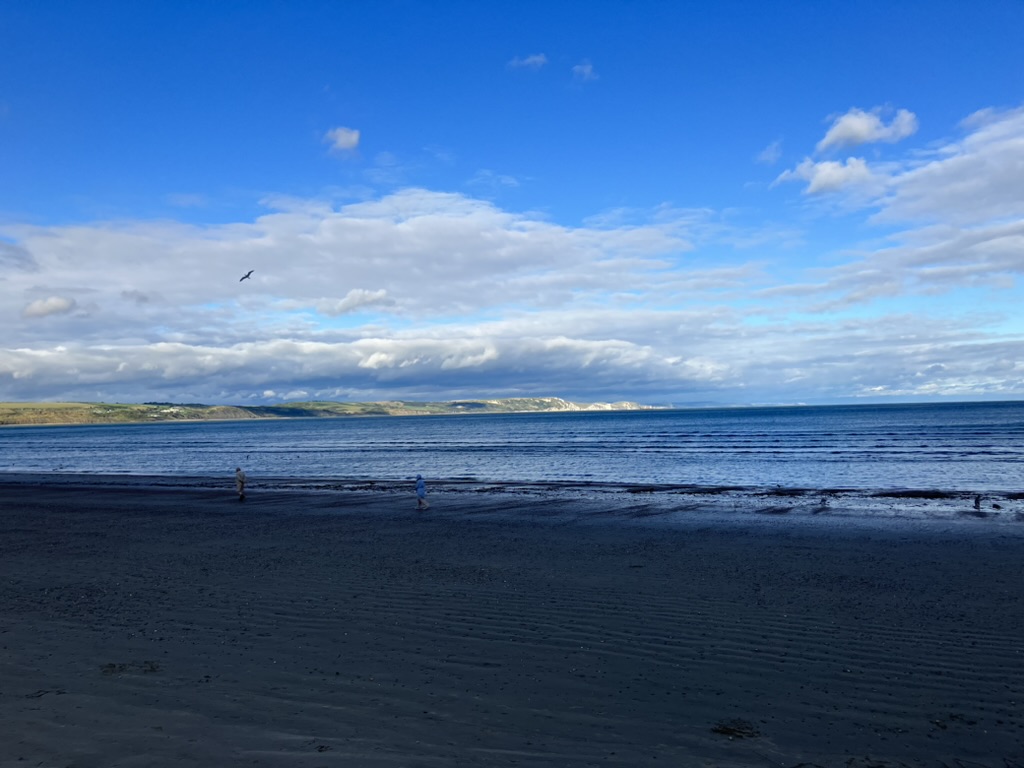 Weymouth Bay looking towards the Jurassic Coast
Boasting not just a sheltered bay and harbour but also a large nature reserve managed by the RSPB, the abundant natural beauty and architecture of Weymouth has enduring appeal.  Whilst former sources of prosperity have dried up, causing widespread socio-economic inequalities between the 'yachts and the yacht-nots,'  Weymouth deserves another renaissance - the chance to reinvent itself from within the community.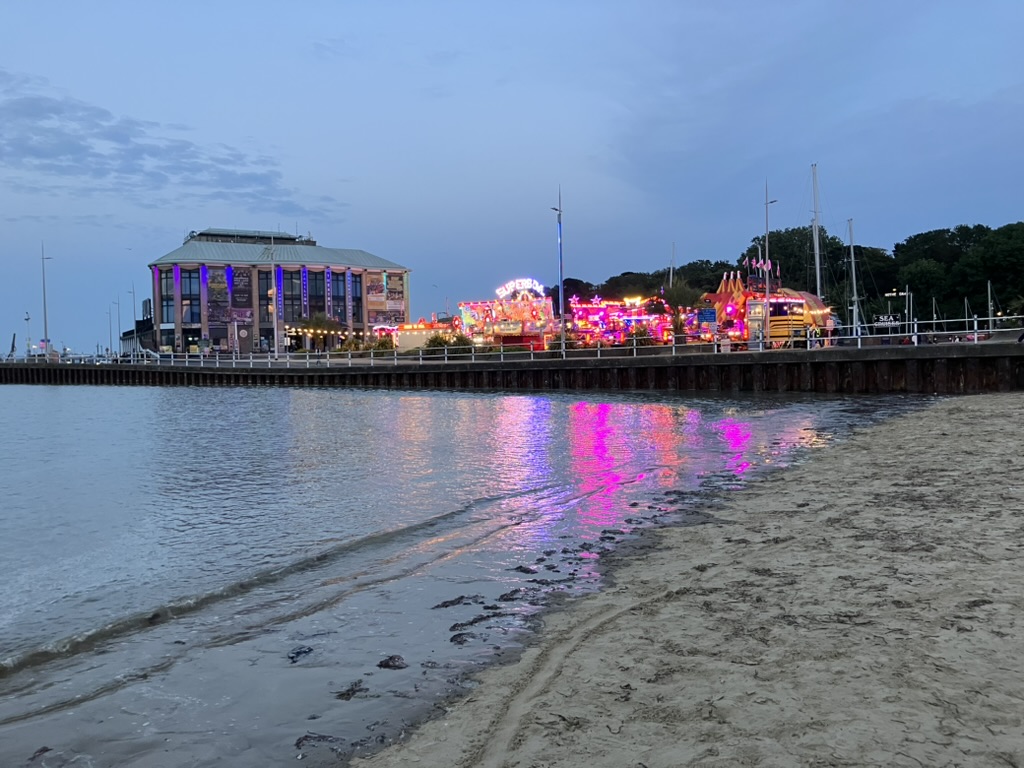 Fairground Reflections at Weymouth Beach
Centring on a rocky pinnacle looking East and West, Weymouth is the ideal jumping-off place to explore the coastline and follow in the footsteps of giants and dinosaurs along well-trodden paths including South Western Coastal Path and Hardy Way.  That's where I'm headed next.
Next Up: III: Following in the Footsteps of Giants Part 1: Thomas Hardy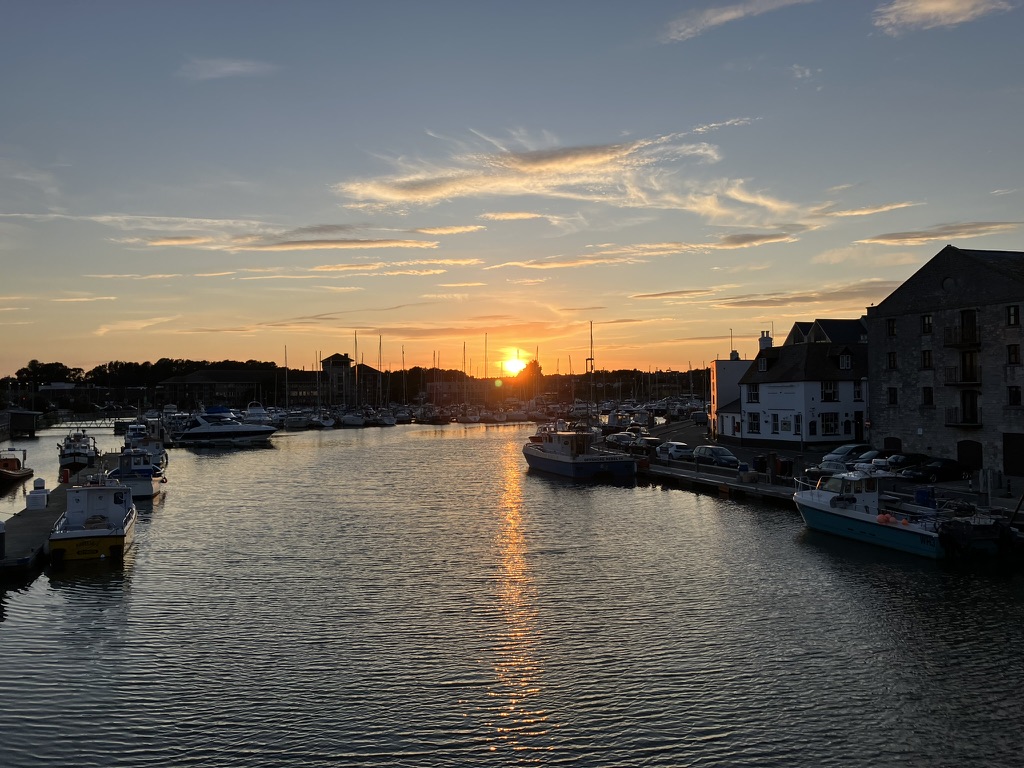 Sunset over Weymouth Harbour